The brief descriptions below are designed to familiarize you with our staff's training, professional credentials and work experience.
Jay Meyer, DPM FACFAS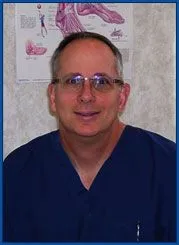 Dr. Meyer was born and raised in metro Detroit and he currently resides in the greater Lansing area. He received a B.S. degree with honors from Michigan State University. He later graduated Cum Laude from the Scholl College of Podiatric Medicine and completed his post-graduate education with a surgical residency from North Detroit General Hospital. With an intense desire to help others and a significant family history of diabetic limb loss, Dr. Meyer's interest in podiatry expanded exponentially. Dr. Meyer is board re-certified in foot and ankle surgery. He maintains a fellowship in the American Academy of Podiatric Sports Medicine. He is on the active surgical staff at Sparrow Hospital, Lansing McClaren Hospital, the Michigan Surgical Center and the Sparrow wound clinic. He is on the consulting staff of the Sports Medicine Department of Michigan State University. Dr. Meyer is also an associate professor in Podiatric Medicine at Kent State University and was appointed to the Michigan Board of Podiatry.
The mission of Podiatry Plus is to reduce the serious effects that diabetes plays on the human foot.
Podiatry Plus began in March 1986 and has two locations. Originally located across from the old Okemos High School in 1986, Podiatry Plus has grown substantially. The two Lansing area offices (Okemos and Delta Township) have added extra capacity to help serve the community better. Both locations are upgraded with digital radiography and electronic medical records to keep the practice at the forefront of medical care continuing into the twenty-first century.
Dr. Meyer resides in the greater Lansing area with his wife of 32 years, Cindy, and their three children. He enjoys gardening and has a passion reading about American History.
Dr. Meyer has given back to the community in a number of ways. He is an active donor to the Wounded Warriors Project, Susan G Koman, Gildas Club and many many others. He was past President of the Okemos Kiwanis Club and the Mid-Michigan Alumni Club of M.S.U. He was also well known in the Lansing area as a level 5 travel hockey coach for 15 years.
Go Green!
Sarah Hilton, DPM FACPM AACFAS
Dr. Hilton is a board certified Podiatrist by the American Board of Podiatic Medicine. She is also a Fellow of the American College of Podiatric Medicine, an Associate of the American College of Foot and Ankle Surgeons, and has extensive training in the surgical and non-surgical management of forefoot, rearfoot, and ankle pathologies. She attended Michigan State University, earning a B.S. in Human Biology. While there, she was a student of the Lyman Briggs College (a residential college within MSU that focuses on science, humanities, and technology), and dedicated herself to several MSU clubs and organizations; most notably as a trumpet in the Spartan Marching Band (2005-2007) and Spartan Brass (2005). GO GREEN!
Following her undergraduate education, she attended Kent State University College of Podiatric Medicine, followed by completion of a 3-year Podiatric Medicine and Surgery Residency at Beaumont Hospital-Farmington Hills, where she was appointed to Chief Resident. Of note during her training, Dr. Hilton spent a month at the Children's National Medical Center in Washington D.C. participating in a Pediatric Orthopedic specialty rotation, focusing on pediatric genetic and bone health conditions. She also participated in a medical mission trip to Tegucigalpa, Honduras providing casting and surgical treatment for children and young adults born with clubfoot and other severe lower extremity deformities.
Dr. Hilton joined Podiatry Plus in July 2019, and has greatly enjoyed being a part of the Lansing community. She is originally from Hudsonville, a community just outside of Grand Rapids, MI. However, as an MSU alum, and with both Grandparents and many of her extended family residing in the region, the Greater Lansing area has always been like a second home. Dr. Hilton and her husband (also an MSU alum) welcomed their son, Ethan, to their family in December 2019. She enjoys spending time outside, gardening, softball, music, traveling up north, rooting on the Spartans, and taking in all the wonderful things Lansing has to offer.
From diabetic foot care to ankle fractures and more, Dr. Hilton is eager to help with any of your foot and ankle care needs.
---
Cheryl Bailey, PMAC - Practice Manager
I was born and raised in Mid-Michigan, I have worked for Dr. Meyer since August of 1992. I started as a part-time medical assistant in 1992, after graduating from Ross Medical Educational Center. I became a PMAC in 2002, which is a Podiatric Medical Assistant Certified. I have worked my way up to being the Practice Manager, of which I have been since 2003. I have been active as the Director of Communications with the American Society of Podiatric Medical Assistants (ASPMA) since 2016. My primary tasks are Medcial Billing/ Surgical scheduling and keeping both locations running smoothly, while keeping staff, Doc's and patients happy! I wear many hats at work. I love interaction with patients. So if you have any questions, ie: if we accept assignment with your insurance, surgical related or have any issues feel free to call me. I am sure that I can help!
I have been married since 1987 to Jack, of which we have two daughters that are my pride and joy. A very handsome grandson! My family is the most important part of my life! I enjoy reading, walking, riding bikes and just being outside.
Podiatric Medical Assistants
Shamya PMAC~ Lead PMA, Jermanique ~ PMA, Grace~ PMA, Mackenzie~ PMA, Anna ~ PMA, Nadeen~PMA,
Front End Coordinator
Tanisha PAAC, ~ Billing Assistant, Chelsey~ Billing Assistant